London To Germany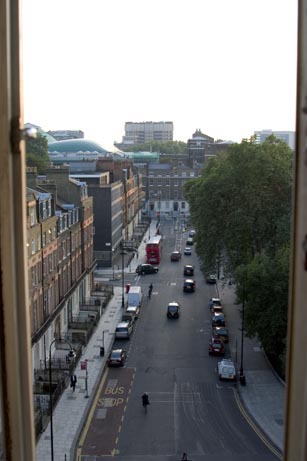 After a stint back on an airplane we arrived in London in time to eat and sleep. Someone did look at our passports this time though. However, customs at Heathrow consisted of a big sign that directed us to the left if we had something to declare, to the right if not.
The next day we were up early (which was to become a pattern) to meet our coach for Contiki's European Magic. After having our bags weighed (no tossing stuff on the curb!) and tickets checked we were off. Did I mention it was early? My plan was to stay awake until we reached countryside and then sleep until we hit Dover.
First though, we met our tour manager, Lou, and driver Pete. After a somewhat scary introductory speech from Lou (time is tight -- if you're late we'll leave you behind. Always carry your passport, money and your get lost sheet with our itinerary so you can catch up), it was time for my first coach nap! That was to become a tradition that stuck with me. I still fall asleep almost instantly in any kind of moving vehicle. Makes driving interesting!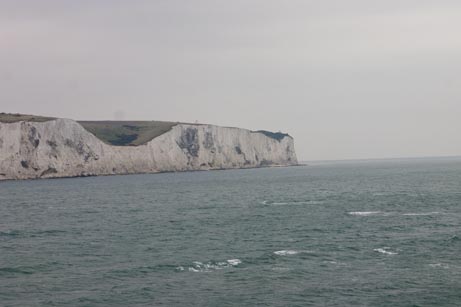 When we arrived at Dover Pete and Lou pulled a fast one (we learned they're masters of the fast one) and got us on an earlier ferry. So we pretty much pulled up and sailed out. Oh, except for French customs... er, passport check.
Our ferry, Pride of Dover boasted a small arcade, coffee shop, currency exchange, large duty free shop and a cafeteria where you paid the same whether you stuffed yourself silly or not. Oh, and stabilizers (it was a calm day, but some people still probably appreciated those). After waving goodbye to the cliffs of Dover and purchasing a few more Euros there was nothing to be done but eat.
When we landed at Calais it was back on the bus for more traveling. Our experience of France was limited to countryside through the bus window (for now). We did get to see our first European Union border though. Lou made sure to wake us up for the crossing. There was a small sign, easily missed, indicating we had passed into Belgium. It made our provincial boundaries look like a big deal.
We drove through Belgium and stopped for lunch at a road side stop just over the border with the Netherlands. I have to take a moment here to describe the phenomenon of European roadside stops. At worst they provide freshly made sandwiches, something hot and the usual selection of chocolate and gifts. Most have at least two cafeterias with as many choices as you could want. We're deprived here in North America with our choice of greasy spoon truck stops or fast food service stops.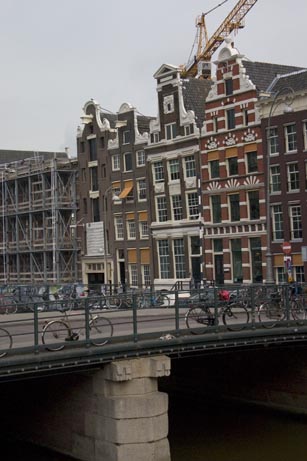 Amsterdam. Famous for it's liberal attitude (i.e. legal prostitution and decriminalized drugs) but also a diamond centre to rival Antwerp and the home of Van Gough and Anne Frank. Plus it has canals.
After checking into the hotel and supper we left for a canal cruise. The boat was low (to fit under the many bridges) and glassed (the better to see the sights) and had an open bar. And thus began our first Contiki night. :)
After the cruise we took a walk through the famous red light district and then were let loose to find our own way back to the hotel (Dutch bus service isn't the London underground). The red light district was surprising. Because nothing illegal was happening the whole district had the air of a tourist attraction. It was very clean and picturesque (though you couldn't take pictures). The famous Grasshopper was a green floodlit beacon marking the way back to the bus stop.
The next day (which started early of course), we saw a pair of wooden shoes made, learned about cheese and visited a diamond house in Amsterdam. We watched diamonds being cut and polished, heard a description of the different cuts, then saw (and had the opportunity to buy) some finished stones. Then we were once again let loose on the city (in the day this time).
Sylvia and I headed for the Van Gough Museum. No pictures, sorry! Amsterdam is also home to the Anne Frank Museum, which is built around her house. Unfortunately there wasn't time to do both.
Soon it was back on the bus (for a nap, yay!) and the drive to St. Goar, Germany.
After a short stop at the border for lunch, where Lou gave us our usual how-to-say-hello-please-and-thank-you-in-the-local-language lesson and asked us to please not make the Germans mad, we arrived at St. Goar.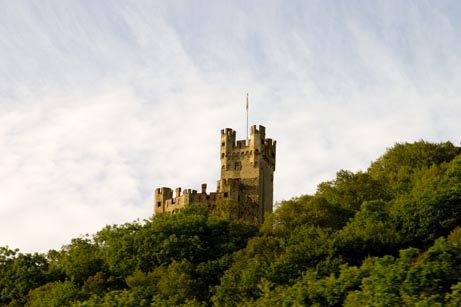 Contiki allows you to bring one bag and it must weigh less than 22 kg. That seems overly strict but when you realize that many European hotels don't have elevators you quickly learn to be thankful. The night before in Amsterdam Lou told us to pack an overnight bag. This too made sense, when we arrived at the Hotel Montag (which is German for Monday), owned and run by the Montag family. The hotel has a small door, followed by a narrow, steep flight of stairs. You arrive on a small landing to grab your key, then continue up. I might have made it with my backpack, but suitcases were out of the question. Definitely the coolest hotel we stayed in!
That night we attended a wine tasting in a 17th century wine cellar. The history lesson that went along with the wine was much more poignant knowing that we were sitting in a room that had seen much of that history.
The next morning it was time to see the sights of St. Goar. We visited a stein shop and a teddy bear shop with the famous Steiff bears and cuckoo clocks (including the world's largest free hanging one). At the stein shop we learned the importance of the stein, and it's value (especially if it happens to be an official Octoberfest stein). With that we headed for Munich, accompanied by the legend of the Loreley.
We arrived in Munich the day before Octoberfest started, which was probably fortunate. Naturally supper that night was at a beer hall, which was packed for Octoberfest but it was still possible to get a table after hovering for a while. Full of various wursts, we eventually retreated to the hotel.