The Road to Valencia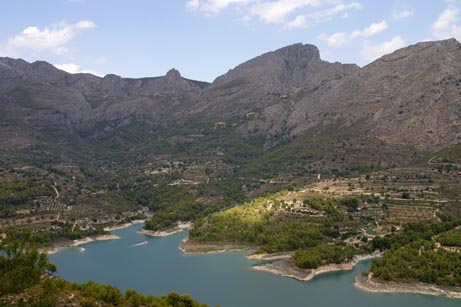 Time to leave Benidorm and head towards our next destination -- Valencia. To get there -- the third means of transportation so far: a rental car. Driving in a foreign country was bound to be an adventure... and we weren't disappointed.
After quickly mastering the standard transmission in our Kia Picanto (sure I did), we set off for the town of Guadalest. Set back from the coast, the town's twisting streets and castle make it Spain's third largest tourist attraction.
I was expecting to leave the city and see some Spanish countryside... I guess we did, but Spanish countryside (at least in the Costa Blanca) isn't what it is here in Canada. There's a village (with mandatory roundabout of course) every 100 metres or so. As we drove further into the hills the road got more interesting (especially driving a standard).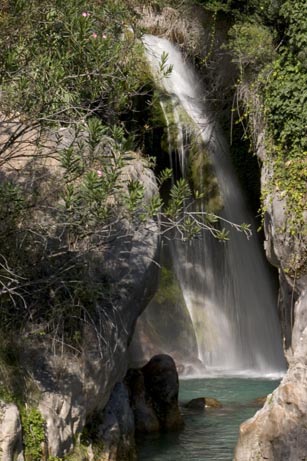 Eventually we reached Gualdalest. The town is built around a lake in a valley surrounded by mountains. The centerpiece of the town is a castle, built on top of a rocky pinnacle. Various art and artifacts in the castle date from the sixteenth century to the nineteenth, and the crypt is still in use today.
After Guadalest we visited the famous Falls of Algar. The falls (there are quite a few) plunge into pools where you can swim. This isn't a hot spring, but it isn't glacier water either.
Time to start heading towards Valencia. We drove back to the coast, then followed the coastal highway, the N332. Around sunset we stopped at Cabo de San Antonio, which had a scenic outlook marking on my map. We found a little beach town, sandwiched between headlands. While eating our dinner of Nutella, crustless bread (you can buy it that way in Spain!), Babybel cheese and chocolate we watched sailboats returning to the marina.
No more sightseeing now that it's dark, so on to Valencia! We were driving off our map anyway. I tried to get a map of Valencia in Benidorm, but was told they couldn't get maps from that far away. They're 100km apart!
We got back onto the N332 but quickly realized that it would take forever to actually reach Valencia going through all the little towns. I guess they built that big toll motorway for a reason. So, on to the A7, aka the Spanobahn!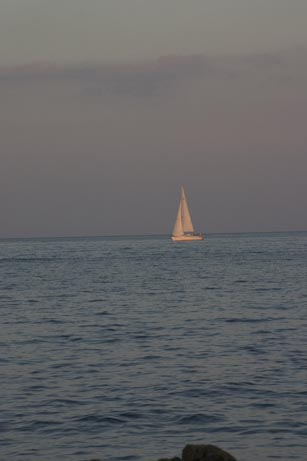 To put this in perspective, a Kia Picanto makes a Geo Metro look like a boat. It's bigger than a SmartCar, but not by much. It's size was going to come in awfully handy when it came time to park, but it took a little while to get used to driving on a road with no speed limit in it.
That's not quite true... the Spanobahn does have speed limits. We saw one... 120 km/h when approaching the toll booths. Needless to say we made decent time to Valencia.