Valencia, Spain
Valencia is Spain's third largest city, after Madrid and Barcelona. The Turia river used to run through the city, but after a flood it was diverted in 1957. The old river bed was converted into a series of gardens and recreation centres.
The Spanobahn drops you squarely in the middle of Valencia. While this sounds like a good idea -- no fighting local traffic -- it wasn't exactly the method of arrival I would have chosen.
The plan was to call someone to meet us when we arrived... I had expected to find somewhere to stop in the suburbs. Instead, we found ourselves in a tiny car in the middle the downtown red light district without a map. Finding a place to park the car to make a phone call didn't look likely, so we kept driving. Fortunately cities in Europe occupy a tiny area compared to places like Calgary. We drove far enough to go about halfway across Calgary but when we finally found a map and plotted where we'd been we'd criscrossed Valencia several times.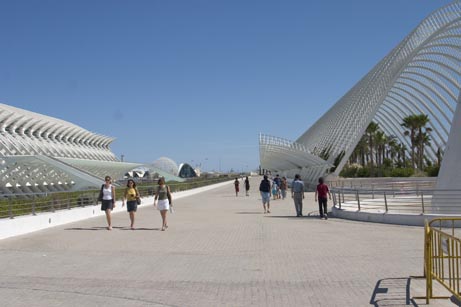 A hectic and stressful couple of hours later we gave up on meeting our guide and stopped at the first hotel we found (which happened to be in the heart of the city). They had no room, but found us space nearby and provided us with a map!!
The next day we arranged to meet our host in the afternoon and decided to go sight seeing. It was a Sunday so all but the biggest attractions (incuding everything but a few fast food restaurants) was closed. So we decided to visit Valencia's biggest attraction, the Ciudad de las Artes y las Ciencias -- the City of the Arts and Sciences. It is a complex that includes an art museum, science centre, planetarium, IMAX theater and aquarium. We chose to visit only the science centre, which more than occupied us until it was time to meet Mariam.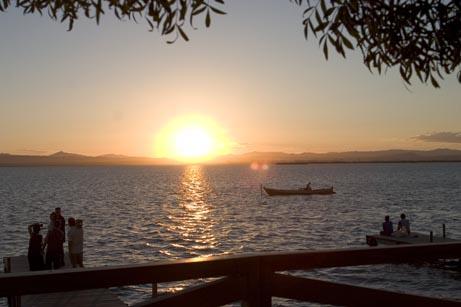 Mariam took us south to Albufera, a lake and natural preserve. We were going to visit the bird sanctuary but it is only accesible by boat and the final trip was returning when we arrived. However, we were just in time for a fantastic sunset.
Returning to the city, we picked up our car and followed Mariam north to Puig, the village where she lives. She had company that night so we stayed in the Hotel Ronda II (two doors down from the Ronda I), but the next morning she handed over her house to us. Literally. Spanish hospitality is famous, and Mariam was no exception. She told us "the house is for you." After making sure we knew where the beanbag chair and hammock were (on the balcony) she set off for work and we settled down to wait for Jose, who was going to drive us to the university for our talks (yes, more work).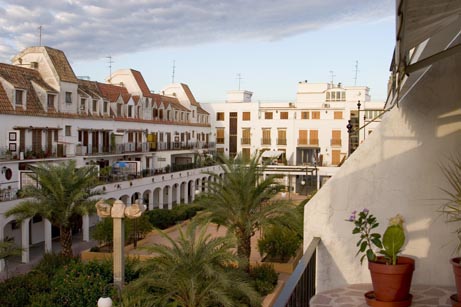 After a tour of the university, we gave our talks. I met a couple of people I'd co-authored papers with. Then it was lunch time.
Lunch in Spain is much more of an event than it is here. For one thing, it may last several hours. Jose took us to a beachside restaurant. Mariam was looking forward to making us paella, a traditional Valencian dish (okay, not dish, more like platter) so Jose ordered a couple of rice dishes that weren't technically paella. One was a traditional rice with a mayonnaise like sauce, while the other was black rice -- rice soaked in squid ink. Nobody makes individual portions -- the rice dishes are made either for two or four people. So we actually had enough to feed four. Plus Jose ordered several appetizers and dessert. It's a good thing lunch lasted three hours.
Afterwards we staggered back to Mariam's and took a siesta. Spanish siestas are supposed to be short, no longer than forty-five minutes. It took us considerably longer to recover from lunch.
Mariam returned and started cooking. We assured her that 8 wasn't too late for supper (it's early for Spain) but she put out appetizers to make sure we didn't starve. Just as we had finished stuffing ourselves with meat, cheese and mussels paella was ready.
Paella is a platter of rice with rabbit and chicken. Mariam's was huge. We ate the whole thing (it was delicious). Then we had melon for dessert. Sylvia and I decided later to write a Haiku describing Spain. It's not finished yet, but the last line is definitely "Food induced coma."
After supper Mariam suggested going to the beach. We drove across the sand for a while, passing a campsite, then, after a short walk in the dark, we arrived at a beach bar with lounge chairs set up on the sand in between fire pots. We spent our last evening in Spain sitting under the stars by the Mediterranean sipping pineapple juice.
Next, back to London for a Contiki tour!